New York Jets 2023-24 NFL Playoff Odds and Prediction
NFL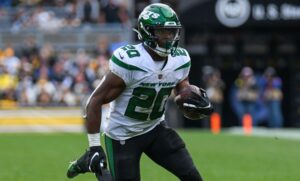 The Jets finished last season 7-10, improving on prior years.
They acquired several more players to compete in the AFC East.
QB Aaron Rodgers headlines New York's multitude of new additions.
As the 2023-24 NFL season approaches, let's take a look at the New York Jets' playoff odds and weigh their chances of making the postseason this year. They added a ton of talent, hoping to make a deep run.
---
Playoff Odds
---
Team News
The Jets took a large step forward in the right direction last season, benefiting from a stellar 2022 NFL Draft class. Rookies Breece Hall, Garrett Wilson, and Sauce Gardner all had excellent seasons, though Hall's was derailed by an unfortunate ACL injury. With the defense much improved but inconsistency at the QB position, New York brought in QB Aaron Rodgers, as well as WRs Allan Lazard and Mecole Hardman.
With a fully overhauled roster, the Jets have rocketed up the projections. Now expected by many to make the playoffs and maybe even better, New York will have an opportunity to snap their league-leading 12-year playoff drought. It will all ride on the back of QB Aaron Rodgers, who finished 26th among 31 eligible QBs in QBR last season. If Rodgers isn't able to return to form in 2023, the drought could last even longer.
---
Prediction
I may be one of a few here, but I'm not yet sold on the Jets. I do like the assets they added in the 2022 draft, most notably Hall, Wilson, and Gardner. What I don't like is their decision to switch to a win-now mode, acquiring a ton of expensive free agents. Instead of building around and developing those young stars, they're forcing an earlier window. I don't think Rodgers is still the same QB. I see the Jets at 8-9.