Philadelphia Eagles 2023-24 NFL Playoff Odds and Prediction
NFL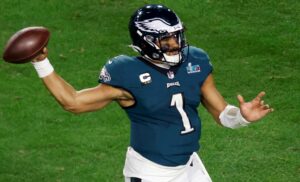 The Eagles fell to the Chiefs, 38-35, in last season's Super Bowl.
They'll need to overcome a handful of key departures on defense.
Philadelphia is the favorite to win the NFC for the 2nd straight year.
As the 2023-24 NFL season approaches, let's take a look at the Philadelphia Eagles' playoff odds and weigh their chances of making the postseason this year. They'll fight to defend their NFC title this season.
---
Playoff Odds
---
Team News
The Eagles nearly won their 2nd Super Bowl in the last 5 seasons, but came up just short against the Chiefs and Patrick Mahomes. The analysis of the Eagles this year is split. Some cite concerns about how they'll overcome losses of players like Javon Hargrave, CJ Gardner-Johnson, and Miles Sanders. On the other hand, they also brought in some talent, and won 14 games last season and the NFC conference.
Philadelphia's season will ride on the back of QB Jalen Hurts. With some key losses on both offense and defense, Hurts will be under a spotlight to lead the team to similar success. Aside from the 49ers, there are not many teams considered to be in contention with the Eagles for the conference title this season. RB Rashaad Penny was added over the offseason, and will fight for the role of replacing Sanders on offense.
---
Prediction
It'd admittedly be a surprise if the Eagles missed the playoffs this season, but it's never easy to overcome a large amount of roster turnover. If Hurts regresses at all this season, Philadelphia could be a lot closer to the playoff bubble than expected. Realistically, Hurts should remain at a very high level of play, and the Eagles shouldn't have too much trouble returning to the postseason. I see them going 12-5 and making it.