Pittsburgh Steelers 2023-24 NFL Playoff Odds and Prediction
NFL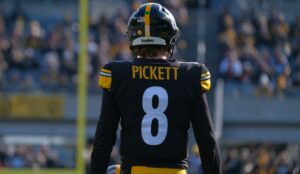 The Steelers just barely missed the postseason last year.
They remained above .500, despite being expected to rebuild.
QB Kenny Pickett will attempt to lead Pittsburgh back to the playoffs.
As the 2023-24 NFL season approaches, let's take a look at the Pittsburgh Steelers' playoff odds and weigh their chances of making the postseason this year. They have some exciting young players this year.
---
Playoff Odds
---
Team News
The Steelers narrowly missed the playoffs last season, losing a tiebreaker to the Dolphins. Even so, they finished 9-8 in what was expected by many to be a season of rebuilding. Pittsburgh has finished .500 or better every season since 2003, and should be in good shape again this year. QB Kenny Pickett had some ups and downs as a rookie, but flashed his potential. If he takes a step forward this year, they'll be legit.
Pittsburgh also has their stellar defense to rely on, led by T.J. Watt. The defense will almost certainly rank near the top again, so if the young offense featuring Pickett, Pickens, and Harris can perform, the Steelers could compete for the division title. On the other hand, if Pickett struggles there's no margin for error in a brutal AFC North division. They could just as easily finish in last place as they could in first place this year.
---
Prediction
With one of the youngest offenses in the NFL, Pittsburgh's results this season are up in the air. It's very possible that Pickett could struggle again, and the Steelers could finish with 6-7 wins. On the other hand, their two-decade long streak without a season below .500 makes that seem less likely. I see this last spot as a toss-up between the Dolphins and Steelers once again, but this time I see Pittsburgh making it in.