Tennessee Titans 2023-24 NFL Playoff Odds and Prediction
NFL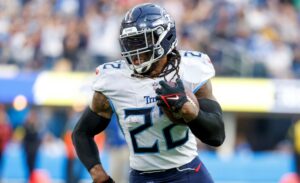 The Titans collapsed near the end of last season, missing the playoffs.
They ended the year with 7 consecutive losses, after starting out 7-3.
Rookie QB Will Levis will attempt to get Tennessee back on track in 2023.
As the 2023-24 NFL season approaches, let's take a look at the Tennessee Titans' playoff odds and weigh their chances of making the postseason this year. They'll have a brand new QB at the helm for this season.
---
Playoff Odds
---
Team News
The Titans completely collapsed down the stretch last season. After going 12-5 in 2021, Tennessee was off to another strong start, sitting at 7-3 over halfway through the season. From there, they lost seven straight games, finishing behind the Jaguars and missing the playoffs. RB Derrick Henry turns 30 years old near the end of this season, shifting Tennessee's focus from win-now to rebuild and hope for the best.
While QB Ryan Tannehill may start out the season under center, rookie QB Will Levis is expected to eventually take over as the next leader of the Titans. With Malik Willis still in the mix too, Tennessee has a variety of options for the future. Unfortunately, they have holes across the roster. WR DeAndre Hopkins was brought in to fill one of those holes. The Titans defense will also be crucial to their success in 2023.
---
Prediction
If any team threatens the Jaguars in the AFC South this year, it'll likely be the Titans. That being said, I still don't feel too good about their chances of making the playoffs this season. Tennessee may have missed their window after two straight division titles with no Super Bowl appearances. It'll be interesting to see how much gas Derrick Henry has left in the tank, but I don't think it'll be enough to carry this team again.