Washington Commanders 2023-24 NFL Playoff Odds and Prediction
NFL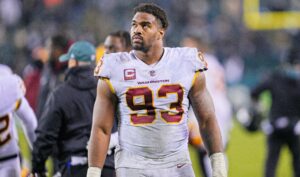 The Commanders went 8-8-1, narrowly missing the playoffs last season.
They need their defense to stay healthy to contend in a tough NFC East.
QB Sam Howell is expected to see his first real action as a starter in 2023.
As the 2023-24 NFL season approaches, let's take a look at the Washington Commanders' playoff odds and weigh their chances of making the postseason this year. They'll try to avoid another subpar finish.
---
Playoff Odds
---
Team News
The Commanders managed to finish with an 8-8-1 record last season, despite fielding 3 different inconsistent QBs. Carson Wentz played terribly to start the season, and was replaced by Taylor Heinicke, who had helped Washington overachieve in the past. Unfortunately, Heinicke also struggled with injuries and inconsistencies, clearing the way for 5th-round rookie Sam Howell to take over the starting QB spot.
Howell was solid for a rookie in his limited action last season. He needs a lot more time to be properly evaluated, though. This upcoming season should provide that, with Howell expected to be the starting QB from start to finish. In the 2023 NFL Draft, the Commanders further addressed their secondary. Doing so should raise the chances of the defense carrying Washington when Howell and the offense are unable to.
---
Prediction
Flying under the radar as the 4th-place team from last year's stacked NFC East, Washington finished at an even .500 in 2022-23. If the defense improves with the new additions, that could propel the Commanders into the playoff conversation in a wide-open NFC conference. If Sam Howell does better than expected, they could even make a run, but I see him improving slowly and Washington going just 6-11 this season.