NHL Draft Picks, Preview, and Odds (2023)
NHL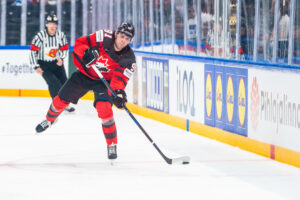 The 2023 NHL Draft will get underway on June 28
Chicago Blackhawks will have the first pick overall
The end to the NHL season for 2022-23 means that all attention quickly turns to the next season. That excitement will build across June 28 and 29, as the NHL Draft 2023 will take place at Bridgestone Arena in Nashville. The Chicago Blackhawks will have the first overall pick overall, and the latest NHL Draft Odds can be found here.
---
How To Watch
Where: Bridgestone Arena, Nashville, Tennessee
When: Wednesday, June 28, 2023- Thursday, June 29, 2023
How To Watch: ESPN
---
NHL Draft 2nd Overall Pick Odds
---
NHL Draft 3rd Overall Pick Odds
---
Event Preview
The NHL Draft has been a key date in the diary for ice hockey fans since its introduction. The decisions made by franchises could shape their future, with some of the brightest prospects from around the world eligible for selection. This year, players born between January 1, 2003, and September 15, 2005, will be eligible in the draft, while un-drafted players born in 2002 can also be selected.
The weighting system that was introduced in 2014-15 will once again be used, meaning that the bottom-ranked side in the overall regular season standings will pick first. This year, the Chicago Blackhawks will have the overall first pick, with the Anaheim Ducks picking second overall.
READ MORE: F1 Picks: Canadian Grand Prix Prediction, Preview, and Odds (June 18)
Adam Fantilli is the clear favorite to get selected second overall this year. He is considered to be one of the brightest prospects in the world, and has played center for the University of Michigan. His freshman year was a huge success, as he was the leading goal and point scorer. Those feats saw him become just the third freshman to win the Hobey Baker Award.
Leo Carlsson could be an interesting contender, as the Swede is the top-rated foreign prospect available for selection this year. The 18-year-old has played center for Orebro HK in the SHL, and was excellent last season for the Swedish side, as he scored ten goals and registered 15 assists in 45 top-flight appearances. Will Smith and Matvei Mitchkov will also be among the leading contenders for selection in the opening rounds of the draft.
---
NHL Draft Picks
It promises to be an exciting evening of draft action in Nashville in late June, but the odds do appear to have the overall selections correct. In our opinion, we expect Fantilli to be selected overall by the Ducks, before the Columbus Blue Jackets pick up Leo Carlsson.
Free Pick