Leagues Cup Preview: New York City FC vs. Atlas Prediction, Odds, and Picks (Jul 23)
Soccer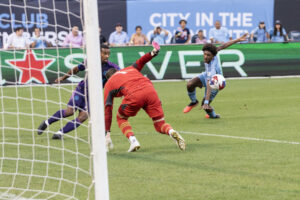 New York City FC beat Atlas Guadalajara 2-0 last year.
NYCFC's run in 2023 has been nothing short of embarrassing.
Atlas Guadalajara's key players usually show up in big games.
New York City FC and Atlas Guadalajara have met only once in history. It happened last year in the Campeones Cup Final and the American team won 2-0. This Sunday (July 23), they meet again. This time, they lock horns in a 2023 Leagues Cup game, and once again, the New Yorkers are expected to win. Will they do it though? Let's see.
---
How To Watch
When: Sunday, July 23, 2023, at 7:00 p.m ET
Where: Citi Field, New York City, New York
How to Watch: Apple TV
---
Odds
---
Game Preview
New York City FC hasn't been doing great in the MLS in 2023, with just 26 points collected in 24 games this season. NYCFC is 5-11-8 in the league, with a 25-30 score differential. However, the fact is that this team has some really talented players on the roster – Gabriel Pereira, Matias Pellegrini, Santiago Rodriguez, and others.
Most of them, however, are still in their early 20s and are relatively inexperienced, which could be the explanation for why we saw them drop points against a couple of underdogs this season. The big question is whether another underdog can snatch point(s) from them?
READ ALSO: Leagues Cup Preview: CF Montreal vs. UNAM Pumas Prediction, Odds, and Picks (Jul 22)
Atlas Guadalajara isn't the biggest soccer team in Mexico. Heck, it's not even the biggest club in Guadalajara. However, Atlas's key men are players with vast experience who love playing big matches. This team's most expensive player, Brian Lozano, is 29 years old. Atlas's scoring leader Julio Furch is 33, while the team captain Aldo Rocha is turning 31 later this year.
---
NYCFC vs. Atlas Prediction
On paper, the boys from New York look way stronger than the men from Guadalajara. However, Atlas will have one major advantage in this game. Its crucial players have way more experience than those playing for NYCFC. That's why we don't think the hosts are going to triumph on Sunday, but we also doubt the visitors can win. Instead, this game looks destined for a tie.
Free Pick: