MLS Preview: Los Angeles Galaxy vs. St. Louis City Prediction, Odds, and Picks (Sep 10)
Soccer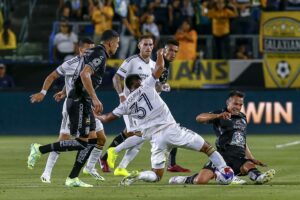 Los Angeles Galaxy vs. St. Louis City is the only MLS game on September 10.
Galaxy is desperate for points in order to challenge for a spot in the MLS Playoffs.
St. Louis City is sitting at the very top of the Western Conference table.
Los Angeles Galaxy vs. St. Louis City is the only 2023 MLS game on the program on Sunday, September 10. Of course, that's not the only reason why it's interesting. Other reasons include that this is a duel between the team from the top of the Western Conference table (St. Louis) and the team that's second from behind (LA Galaxy). It's also the first-ever Galaxy vs. St. Louis game to take place in Los Angeles.
---
How to Watch
When: Sunday, September 10, 2023, at 8:00 p.m ET
Where: Dignity Health Sports Park, Los Angeles, California
How to Watch: Apple TV
---
Odds
---
Game Preview
This is a must-win situation for Los Angeles Galaxy. Despite being the most successful team in the history of the MLS, the boys from LA aren't doing that great in 2023. They're currently second from behind in the standings. The good news is that they're only five points behind the closest team from the playoff zone. Plus, they've played one or two games fewer than all the teams sitting above them in the West.
In simple terms, this means that if LA Galaxy wins most of its games in the remainder of the 2023 regular season, Greg Vanney's men will make the playoffs. Of course, that's easier said than done, but what's giving their fans confidence they can pull it off is that they've been great since the restart of the 2023 MLS season.
READ ALSO: MLS Preview: Inter Miami vs. Sporting Kansas City Prediction, Odds, and Picks (Sep 9)
They're undefeated since the end of the Leagues Cup break with a 2-1-0 record. The most impressive thing is that they were without three key players in those games – their captain Chicharito, midfield general Gaston Brugman, and their star defender Martin Caceres.
Those three are set to miss the LA Galaxy vs. St. Louis game as well, but even without them, the hosts are expected to do well. In fact, judging by the MLS odds, they're expected to win. But what do we think?
---
Los Angeles Galaxy vs. St. Louis City Prediction
Los Angeles Galaxy are desperate for points and need to go for a win on Sunday. The problem is that they're squaring off with one of the best teams in the league in 2023. St. Louis City players look capable of scoring against any opponent in the 2023 MLS, including LA Galaxy.
We think they're going to find the net at least a couple of times, but that might not be enough to get a win. Instead, we think a draw is the most probable outcome.
Free Pick: