MLS Preview: Philadelphia Union vs. FC Dallas Prediction, Odds, and Picks (Sep 27)
Soccer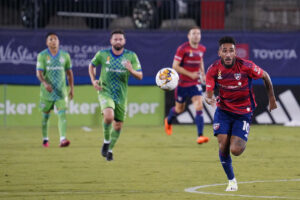 Philadelphia Union is very close to booking a spot in the playoffs.
FC Dallas needs points to stay in the top 9 in the West.
Philadelphia Union vs. FC Dallas is one of the two MLS games scheduled for Wednesday, September 27. It's taking place at Subaru Park in Chester, PA, where Philly is expected to beat FC Dallas. Odds suggest the hosts will win, but one should keep in mind that the team from Texas is a real giant slayer in 2023.
---
How to Watch
When: Wednesday, September 27, 2023, at 7:30 p.m ET
Where: Subaru Park, Chester, Pennsylvania
How to Watch: Apple TV
---
Odds
---
Game Preview
Philadelphia Union is flying high in the Eastern Conference and is only a couple of points away from securing a spot in the 2023 MLS Playoffs. In fact, with a win on Wednesday, the boys from Philly would book the postseason ticket. So, can they beat FC Dallas?
Philly's form doesn't seem too impressive with three draws in a row. However, there's a caveat – these guys have had a pretty tough schedule. The first of those three ties happened against FC Cincinnati, which is the team that's likely to win the MLS Supporters' Shield this season.
Their second draw happened against Charlotte on the road, while the most recent one was at home against the reigning MLS Cup champion, Los Angeles FC.
Even the biggest FC Dallas fans cannot argue that their team is better than Philadelphia's recent opponents. However, this team loves playing big games. More importantly, FC Dallas is in top shape with no losses since August.
READ ALSO: US Open Cup Final Preview: Inter Miami vs. Houston Dynamo Prediction, Odds, and Picks (Sep 27)
The most important thing, however, is that the team from Texas is super-motivated to win at least one point on Wednesday. Why? Because FC Dallas is sitting in the last available playoff spot, with four teams breathing by its neck.
---
Philadelphia Union vs. FC Dallas Prediction
FC Dallas just isn't as good as Philadelphia Union, although the Texas side has a couple of exceptional players on the roster (e.g., Jesus Ferreira). Their biggest advantage ahead of Wednesday's game is their motivation. The Texans are desperate for points and they're going to give their maximum to win at least one.
Free Pick: