XFL: Renegades vs Defenders Odds, and Picks (May 13)
Football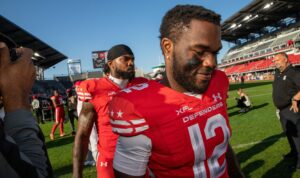 Arlington stunned the Renegades, winning 26-11, and advancing.
DC earned their spot in the title game with a 37-21 win over Seattle.
These two teams last met on April 16, in a game that the Defenders won 28-26 in OT.
The Renegades (5-6) and the Defenders (10-1) face off in the 2023 XFL Championship game. Arlington snuck into the playoffs and pulled off a major upset, while DC has spent most of the season as favorites.
Jump to:
---
How to Watch
Where: Alamodome, San Antonio, TX
When: Saturday, May 13, 2023, at 8 p.m ET
How to Watch: ABC
---
Odds
---
Game Preview
Arlington was on the brunt end of some criticism that the XFL received for its playoff format, which saw the 4-6 Renegades make the playoffs over the 7-3 Battlehawks because of division standings. Yet the Renegades themselves didn't feel as though their spot was undeserved, proving any doubters wrong with a triumphant win over the south division champions. Arlington's stellar defense is their key to winning here.
The Defenders scorched past the Sea Dragons in their semifinal game, continuing to look like the best team in the XFL. Aside from a 1-point defeat on the road against the Guardians, DC has won every single game this season. One of the Defenders biggest advantages is their disciplined play. Against Seattle, they were penalized just 3 times for 25 yards, while the Sea Dragons were penalized 13 times for 125 yards.
---
Picks
Both XFL semifinal games were dominated by the winning team, with each game ending with a gap of 15 or more points. That could indicate another blowout in the championship, but I expect a much closer game this time around. While the Defenders have been the clear better team, they've won several games by close margins, and will face a tough Renegades defense in Texas. I see DC winning it, but not covering.
Moneyline:
Spread: