USFL Final: Maulers vs Stallions Odds, and Picks (July 1)
Football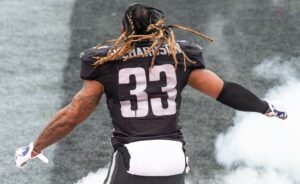 The Maulers escaped the Panthers in an OT thriller, winning 31-27.
Birmingham dominated the Breakers, 47-22, advancing to the Finals.
These two teams last met on May 7, in a game the Stallions won 24-20.
The Maulers (5-6) and the Stallions (9-2) match up in the 2023 USFL Championship Game. Birmingham has dominated all season long, but played Pittsburgh close back in May. This game could go either way.
---
How to Watch
Where: Tom Benson Hall of Fame Stadium, Canton, OH
When: Saturday, July 1, 2023, at 8 p.m ET
How to Watch: NBC
---
Preview
Pittsburgh defeated Michigan in a thrilling semifinal game on Saturday. They scored 17 points in the 4th quarter, coming from behind to force overtime. After winning in overtime, the Maulers now advance to the USFL Championship Game. They'll face an uphill battle against a dominant Stallions team, but played them close once this year. QB E.J. Perry will be key for the Maulers. He's been inconsistent, but hot as of late.
The Stallions continue to look like the USFL's best team, improving to 9-2 on the season with a dominant win in the semifinals. They jumped out to a 40-7 lead in the 3rd quarter, never giving the Breakers a chance to come back. After dominating the team with the second-best record in the league, Birmingham now enters the final against Pittsburgh as the heavy favorite. Their defense could overwhelm the Maulers.
---
Picks
The USFL Finals have a similar story to the XFL Finals. One of the finalists is under .500, but made it due to a weak division, while the other finalist has routed nearly every opponent they've faced. Ultimately, in the XFL, the team that was under .500 and a heavy underdog was actually the one to win it all. For the USFL, I'd still lean towards taking the dominant Stallions to win it all, but I also expect to see a really close game.
Moneyline:
Spread: