Top 15 Highest Paid NFL Players
Compiling a list of the highest paid players in the NFL is a tough job due to the way most contracts around the league are structured. Since NFL teams can release players at anytime, the players usually demand a ton of guaranteed money. Most people would tell you that guaranteed money is the only way to rank NFL contracts, but I'm not most people. Players are worth more than just a signing bonus, so looking at a player's average annual salary is the best judge of worth. Let's take a look at the 15 highest paid players in the NFL during the 2018 season. Disclaimer: This list is dominated by quarterbacks.

1. Aaron Rodgers, QB, Green Bay Packers, $33.5 Million: Aaron Rodgers signed a contract extension with the Packers in the offseason to make him the highest paid player in the NFL. All that Rodgers has done since earning that monster extension is get his long-time head coach fired. But seriously, Rodgers is having one of the worst seasons in his long career, I doubt he cares with the money he is making.. The gunslinger is definitely a first ballot Hall of Famer, but he has just one Super Bowl title to his name.

2. Matt Ryan, QB, Atlanta Falcons, $30 Million: Falcons quarterback Matt Ryan checks in at number two on this list, with a mere $30 million per year. The former NFL MVP in 2016 has made four different Pro Bowl teams during his career. Ryan has put up monster numbers for the Falcons during his career, but he is probably most famous for blowing a Super Bowl to the New England Patriots. The Falcons will miss the playoffs this season, meaning the QB is not giving the Atlanta fans a return on their $30 million investment this season.

3. Kirk Cousins, QB, Minnesota Vikings, $28 Million: The casual NFL fan is probably shocked to see Kirk Cousins this high on the list, but here he is. Cousins was able to cash in with the Minnesota Vikings after an inconsistent career with the Washington Redskins. Cousins is famous for yelling, "You Like That," after a big comeback win, but he probably likes what he sees when he checks his bank account. Time will tell if he is worth the money in Minny.

4. Jimmy Garoppolo, QB, San Francisco 49ers, $27.5 Million: Garoppolo has to be the most surprising name in the list of 15 highest paid NFL players. He is making $27.5 million per year from the 49ers, which is an absolute steal. Garoppolo should thank his agent for getting him this monster deal after appearing in just 17 games with the Patriots.

5. Matthew Stafford, QB, Detroit Lions, $27 Million: Stafford continues to get paid big bucks by the Detroit Lion, but his team is consistently under .500. The Lions are apparently value fantasy points, because that's the only true value Stafford has given them. Still, Stafford rounds out the top-5 of highest paid NFL players with $27 million per year.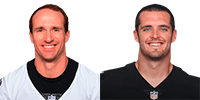 Tie-6. Derek Carr, QB, Oakland Raiders, $25 Million
Drew Brees, QB, New Orleans Saints, $25 Million
Seeing Derek Carr on this list is shocking, but seeing him in the same spot as Drew Brees makes it almost impossible to believe. The Raiders have apparently invested $25 million per year to Carr to lead them through their rebuilding phase. Meanwhile, the Saints paying Brees just $25 million per year feels like an absolute steal. Brees is playing like a man that should top this list, while Carr's name feels like a typo.

8. Andrew Luck, QB, Indianapolis Colts, $24.594 Million: Luck is finally healthy again, and is starting to earn his monster salary from the Colts. The Colts have been all in on Luck since forcing Peyton Manning out of town, and they have treated their star quarterback well. Maybe one of these days Luck will lead the Colts on a deep playoff run for all of that money.

9. Khalil Mack, DE/OLB, Chicago Bears, $23.5 Million: We finally get to the first non-quarterback on the list of highest paid NFL players. The Chicago Bears stole Mack from the Oakland Raiders in the offseason, and then made him the highest paid defensive player in the NFL. Mack has been outstanding this year for the Bears, and looks like he is worth every penny (And the two draft picks) it cost to get him.

10. Alex Smith, QB, Washington Redskins, $23 Million: Hopefully the Redskins have insurance on this contract, because Smith might be done playing in the NFL. The former Niners and Chiefs QB finally got himself a monster contract from the Redskins, but suffered a gruesome leg injury. Smith gives hope to game managing quarterbacks everywhere.

11. Aaron Donald, DL, Los Angeles Rams, $22.5 Million: Simply put, Aaron Donald should be much higher on this list. Donald is the best defensive player in the NFL, and has a shot to win MVP this season. The Rams almost messed up and refused to pay the man, but he has been worth it since signing the deal.
12. Joe Flacco, QB, Baltimore Ravens, $22.13 Million: Flacco took advantage of winning a Super Bowl to sign a monster deal and make a ton of money. He has been injured for much of the 2018 season, and it looks like he has lost his job in Baltimore. Flacco better enjoy the money now, because it won't be there much longer.

13. Russell Wilson, QB, Seattle Seahawks, $21.9 Million: Russell Wilson is a Super Bowl Champion with the Seahawks, and seems to still be getting better. He is making just $21.9 million per year currently, but expect Wilson to climb this list when it is time to re-sign.

14. Ben Roethlisberger, QB, Pittsburgh Steelers, $21.85 Million: It is kind of ironic that Big Ben is on this list, while the Steelers still won't pay Le'Veon Bell. This is a perfect example of quarterbacks getting all of the money. The Steelers hope that Big Ben can deliver another Super Bowl for this amount of money.

15. Eli Manning, QB, New York Giants, $21 Million: Rounding out the list of highest paid NFL players is a washed up quarterback that is hanging on for dear life. Manning spends much of the time getting booed off the field in New York, but has somehow convinced the team that he is still good. There is no way that Manning will get another long-term deal in the league.