MLS Props, Breakdown, Odds, and Picks (Jun 3)
Soccer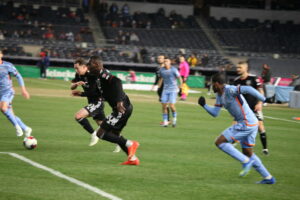 A new round of the 2023 MLS is on the program today.
Thirteen games are on the program from the afternoon until past midnight (ET).
We've got some MLS props for each of those games!
There are 13 MLS games on the program today (June 3), and you can read our prediction pieces for some of those matchups elsewhere on the site. In this post, however, we're going to focus only on MLS props for today. So, let's start!
---
NYCFC vs New England Revolution Prop
Duels between these two are always fun to watch, often with plenty of goals on both ends. We saw three or more goals in each of their last five meetings in the MLS. Further, both teams are doing okay offensively in the 2023 season, while also having a leaky defense.
READ ALSO: MLS Preview: New York City FC vs New England Revolution Prediction, Odds, and Picks (Jun 3)
New York City FC's goalie conceded at least a goal in each game since March 11. When it comes to New England, Bruce Arena's boys allowed a total of 11 goals in the last four MLS rounds.
---
Seattle Sounders vs Portland Timbers Prop
Jordan Morris is Seattle's scoring leader, as well as the player sitting in the shared second spot on the list of top scorers in the 2023 MLS. So far, the American striker has scored nine goals. That accounts for 42.85% of Seattle's goals this season.
The bad news for the Sounders is that their scoring machine is injured and will not play this evening. Morris missed the previous game as well, and his team lost 1-0 to the San Jose Earthquakes at home.
If they want to avoid another loss, they need to score against the Timbers this evening. But which player can do it? Our answer is Raul Ruidiaz.
The Mexican was the Sounders' scoring leader last year, but in 2023, he's been struggling with fitness. The good news is that he might be ready to make his first start in over six weeks.
---
Columbus Crew vs Charlotte Prop
Columbus Crew is the highest-scoring team in the Eastern Conference with 28 goals scored in 16 games. Charlotte is the team with the second-worst defense in the conference, with 26 goals conceded thus far in 2023. Knowing this, it's only logical to assume we'll see at least a goal on each end this evening.
---
FC Cincinnati vs Chicago Fire
FC Cincinnati is undefeated in the MLS since mid-April. Further, this team has all wins in Ohio since October 2022. We think the Ohioans are going to win again and they're going to do it in style. We can see them getting an early lead and keeping it until the final whistle.
---
Inter Miami vs DC United Prop Pick
Phil Neville is no longer Inter Miami's coach, but we doubt that's going to matter much today. Wayne Rooney's boys are coming to Florida to grab a win and we don't think "The Herons" can stop them.
One of the main reasons for this is that the team from the capital has Christian Benteke on the roster and this guy looks capable of scoring against any team in the MLS.
---
New York Red Bulls vs Orlando City Prop Pick
Each of the last three NY Red Bulls vs Orlando duels in the MLS saw at least one team keep a clean sheet. Considering how good these two have been defensively in 2023, we think we'll see the same happen this evening.
---
Philadelphia Union vs CF Montreal Prop Pick
Philadelphia's Daniel Gazdag is a playmaker who likes to stay busy for all 90 minutes in each game. He's scored 7 goals so far, as well as recorded as many assists. We wouldn't be surprised if he got in the spotlight this evening as well.
BetOnline has an MLS prop ("score or assist") with which you win if your selected player scores a goal or makes an assist (or does both). And we think Gazdag is ideal for this bet!
---
Austin FC vs Real Salt Lake Prop Pick
Last season, Sebastian Driussi scored 25 goals in 37 MLS games for Austin FC. This season, he's still at three goals. The explanation for this is that the Argentine forward had to spend a couple of weeks sidelined due to an injury. He made his comeback on the last day of May and scored the winning goal for Austin.
---
FC Dallas vs Nashville SC Prop Pick
This is going to be the seventh FC Dallas vs Nashville duel in all competitions. Each of the previous six saw at least one team keep a clean sheet. We think the same might happen this evening. It's not only because of the history these two share but also because they've both been great in the defense in 2023.
---
Minnesota vs Toronto FC Prop Pick
Toronto FC isn't doing great right now, but this team does have some amazing players on the roster. Former Napoli star Lorenzo Insigne is one of them. Before joining Toronto FC, he scored 11 goals in his last season for Napoli. Last season, he scored six goals in 11 games for the Canadian team, but in 2023, he only has one MLS goal to his name.
The Italian hasn't been great scoring-wise this season, but the 31-year-old sure has the skillset to change that. We think Insigne's resurrection starts tonight.
---
St Louis City vs Houston Dynamo Prop Pick
St Louis is the highest-scoring team in the MLS with 29 goals in 13 games (2.23 goals per game). Joao Klauss who's this team scoring leader is struggling with fitness, meaning that someone else will have to take his role this evening against Houston.
We suspect it could be Jared Stroud. The American forward hasn't scored since mid-April, but the thing about this guy is that he tries a lot. He's busy on the pitch, creating many chances for himself and his teammates. That's why we think he'll make at least three shots on Houston's goal this evening.
---
Colorado Rapids vs San Jose Earthquakes Prop Pick
Colorado is the worst team in the Western Conference and the Quakes should have no problems winning tonight's game. However, to win, San Jose players need to score, which is something they've been struggling with lately.
They scored just four goals in their last four MLS games, with their scoring leader Cristian Espinoza failing to get on target. The game with the Rapids, however, looks like an ideal opportunity for him to end his goal drought.
---
Vancouver Whitecaps vs Sporting Kansas City Prop Pick
These two teams have been scoring a lot of goals lately. The Whitecaps scored nine goals in their last two MLS games. In the last two rounds, Sporting players scored six goals. What's also very interesting is that both teams like scoring their goals in the second half.
Of those nine Vancouver goals in the last two MLS rounds, five happened in the second 45 minutes. Sporting scored four of their six games in the second half. This time, we think it's going to be just the opposite.
We can see a goal happening in the first half of the Vancouver vs Sporting game, for which BetUS is giving -155.