2023 Wimbledon: Novak Djokovic vs. Carlos Alcaraz Prediction, Odds, and Picks (Jul 16)
Tennis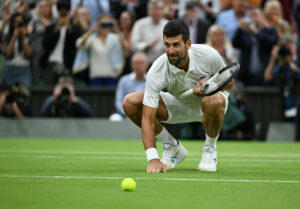 Novak Djokovic is a -185 favorite to beat Carlos Alcaraz in the 2023 Wimbledon Final.
Djokovic is looking for his 24th Grand Slam title, as well as his record-equaling 8th Wimbledon title.
Novak Djokovic is just a step away from claiming his 24th Grand Slam title. The only obstacle on the road to greatness comes in the form of Carlos Alcaraz, his opponent in the 2023 Wimbledon Final on Sunday, July 16.
---
Schedule and How To Watch
When: Sunday, July 16, 2023, at 9:00 AM ET
Where: Wimbledon Centre Court, London, UK
How to Watch: ESPN/ESPN+
---
Odds
---
Match Preview
Novak Djokovic and Carlos Alcaraz have never played each other on a grass court. They did, however, play two matches on clay, with each player winning once. The more recent of those matches happened in the semifinal of the French Open, in which the Spanish player was seen as a -200 favorite. The reason? He's very good on the claycourt. But what about grass, the type of surface used at Wimbledon?
The ATP No. 1 is 11-0 on this court in 2023, but in the previous years, he didn't play much on this surface. In fact, from 2018 until last year, Alcaraz played only 10 grass court matches, winning seven of those.
Djokovic, meanwhile, is an expert on grass, who's already won Wimbledon on seven occasions. What's most impressive is that four of those wins happened in the previous editions of the tournament.
---
Djokovic vs. Alcaraz Wimbledon Prediction
Novak Djokovic is already considered the GOAT of tennis and adding another Grand Slam trophy would further cement that status. The Serbian would increase his majors advantage over Rafael Nadal by two titles. On top of that, winning on Sunday would mean equalizing Roger Federer's Wimbledon record of eight wins.
Free Pick: